YEAR END BANQUET
Saturday, November 7, 2015
Revere Tavern
Lancaster, PA

BANQUET RESERVATION FORM
Show dates are posted.

May 2 & 3 Prize lists available!













RULES & REGULATIONS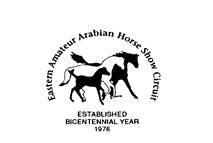 About the club...
The Eastern Amateur Arabian Horse Show Circuit (EAAHSC) was established in 1976, by a small group of dedicated horse people. We offer amateur classes for both the Arabian/Half Arabian as well as All Breed classes. We are a family friendly club with low entry fees and year end awards.