In an effort to increase participation which has been on a steady decline the past few years EAAHSC will open the Regional and Council shows to trainers who take regular remuneration for training horses and riders, boarding etc. Trainers may not show, however their amateurs will be able to show. Trainers may be present on the grounds and pre-work horses prior to the start of the show, at lunch break and after the show has commenced. Trainers will be allowed to coach students in the warm up area but are asked not to coach from the rail while classes are being judged.
Show dates are posted.

May 2 & 3 Prize lists available!













RULES & REGULATIONS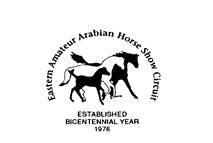 About the club...
The Eastern Amateur Arabian Horse Show Circuit (EAAHSC) was established in 1976, by a small group of dedicated horse people. We offer amateur classes for both the Arabian/Half Arabian as well as All Breed classes. We are a family friendly club with low entry fees and year end awards.