2017 Show Dates
May 6, 2017
NE MD Region
Harford Equestrian Center, Bel Air, MD

May 7, 2017
SC PA Region
Harford Equestrian Center, Bel Air, MD
June 3 & 4, 2017
SE PA Region
Harford Equestrian Center, Bel Air, MD
August 19, 2017
Council Show
Harford Equestrian Center, Bel Air, MD

August 20, 2017
Council Show
Harford Equestrian Center, Bel Air, MD






Year End Awards for All Breed Classes As Well As Arabian Classes!




We are excited to partner with The Eastern Crabbett Arabian Horse Society for the Aug. 19 & 20th shows. Come out and support both shows!

RULES & REGULATIONS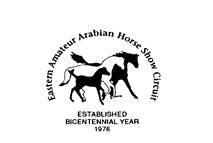 About the club...
The Eastern Amateur Arabian Horse Show Circuit (EAAHSC) was established in 1976, by a small group of dedicated horse people. We offer amateur classes for both the Arabian/Half Arabian as well as All Breed classes. We are a family friendly club with low entry fees and year end awards.